A few years ago I thought I'd try and write a history book, but the issue became what to do it on. Perhaps I was approaching it backwards in deciding to write the book, then find the subject, instead of the other way round. However, seeing as our MPs usually wait to see if they get drawn in the private member's ballot before selecting a bill, I am following precedent.
I did my degree, many years ago, in history and politics, so thought the I'd try and combine the two, and with Colchester having such a rich past, I decided that a bit of local history would fit the bill. With my Latin and ancient British languages being non-existent, I decided to eschew the Roman era, and go for something much more recent.
Now for those of us who consider ourselves historians, modern does not mean now, or even within the last fifty years or so, but can include what many consider, a long time ago. When I did my original degree at Essex University, they considered the 'early modern period' to have started in 1485, at the beginning of the Tudor era (which I will still use despite Clifford Davies's protestations) and finally ends around 1750, the beginning of industrialisation in Britain.
Seeing as I was going local, I thought okay, now Colchester actually played a part in what are called the English Civil Wars, or even as 'The Wars of the Three Kingdoms' seeing as Ireland and Scotland became heavily involved.
Colchester's most famous contribution is the siege, which lasted from 12 June-28 August 1648, when a troop of Royalist soldiers managed to barricade themselves inside the town walls, and Parliamentary troops led by Sir Thomas Fairfax blockaded the town. Eventually, after much privation the Royalist troops surrendered, and two of their commanders, Sir Charles Lucas and Sir George Lisle, were summarily executed behind the castle. My picture for this blog was taken next to the monument raised in 1892.
However, the siege has featured prominently in the myriad books about the wars, and for my first effort I wanted to do something I thought might be easier. I therefore decided to start trawling through Colchester's MPs, and the idea of writing short biographies of each appealed. I hadn't seen anything like that around, and thought it would be a good, and concise way of bringing together history and politics.
As I looked through, just drawing together a list, thinking perhaps selecting a number at specific points might be the way to go, I chanced upon the name of Sir Harbottle Grimston. Now this is a name to make anyone stop and look further into, so I did.
The more I delved, the more interesting he became. He was one of Colchester's MPs during the period of the conflicts, but had also ended up spending time in the Tower of London, and was actually the Speaker of the House of Commons which welcomed Charles II to England in 1660. He topped this off with becoming Master of the Rolls before dying in either 1685 or 1683 (depending on what you are reading) in St. Albans, and is buried alongside Sir Francis Bacon.
'So?' I asked myself, if this man did so much, why haven't I heard of him? I don't pretend to be an expert on the period, but you would think with having such an accomplished son, Colchester would have at least one monument of some sort, even if it was restricted to a blue plaque somewhere? But htere is absolutely nothing, bar a portrait in the Town Hall.
The portrait above of Sir Harbottle is by an unknown artist, but probably based upon a portrait by Sir Peter Lely. He is in the robes of the Master of the Rolls according to one source, although the National Portrait Gallery seems to think they are Speaker's.
As I began my researches, one thing I quickly discovered I had to be careful about was which Harbottle I was talking about. Father and son shared the same name, and were both Members of Parliament during the period from 1640 (when Charles I's personal rule ended) until 1647 when the first baronet died.
It was fairly simple to tell the difference in most documents and books where they are mentioned, because the first baronet is the one with the title. This could have been a lot trickier, if young Harbottle had been awarded the knighthood the eldest sons of baronets were normally awarded, but as he was in fact a second son, his elder brother having died, he possibly wasn't actually entitled to it.
These are the sort of questions I knew I would need to try and find answers to as I researched my biography, for by now I was so intrigued by this man, that I decided I might as well follow it through. After all, if there seems to be almost no trace of him in the town where he first appeared on the national scene, I thought there was an opportunity for something original.
I do not intend to go into too much detail about what I've discovered to date, and will save for specific blogs, and hopefully for the book, if it is ever published. But a few titbits that will hopefully interest you, and want you wanting to know more.
He first seems to have come to the notice of many outside parliament, when in a speech against Archbishop William Laud, he called him, " 'the sty of all pestilential filth that hath infested the state and government of this commonwealth,'' although this doesn't seem as original an insult as I believed for a long time, as Nehemiah Wallington used it, and it appears it may have been a puritan comment regarding those believed to be engaged in lustful activity, but more of that on another occasion.
Grimston appears now and again in books on the period, usually in reference to this speech, or in his role as Speaker during the Restoration. However, one historian who features him more extensively is John Adamson in his excellent 'The Noble Revolt' who also believes (as I have come to) that he is more significant than generally believed.
I have read one comment which describes Grimston as, 'almost a great man,' so my basis question I've asked myself is, Is Sir Harbottle Grimston deserving of greater recognition than he has hitherto received?
I thought that a good place to start, and I feel it enables me to view the materials with a dispassionate eye, as I always have that question in the back of my mind.
In Essex we have a superb records office, which holds quite a bit of material relating to the period, and some original letters to and from Grimston, and I am gradually wading through those, though I am having to practise reading seventeenth century handwriting, which is a bit of a job.
But the vast majority of primary resources are held at Hertford Record Office, as Grimston purchased the former home of Sir Francis Bacon, Gorhambury in St Albans, and so the records ended up being stored there. It's not too far away, but time and organisation is required so I have not yet been able to get there as often as I would like.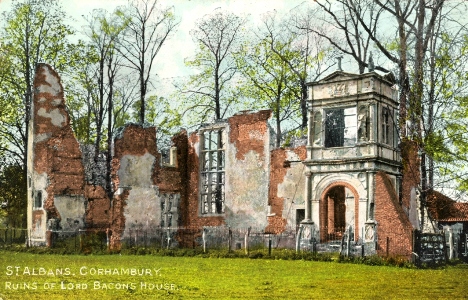 The ruins of Gorhambury that Sir Francis Bacon and Sir Harbottle Grimston would have lived in, the current residence having been built in the mid-eighteenth century.
So there I will leave it for now, just a brief insight into how I came to decide on the book I am writing. I will post a few articles over the next week or so, as it will help me to put thoughts and ideas out there, and any who has knowledge of material they believe will be useful, please feel free to share with me.